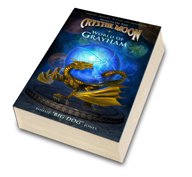 A while ago, Advanced Budget Studios had the privilege of working with the author of a great book in a voice-over. The author's name is Phillip Jones, and his book is called
Worlds of the Crystal Moon
.
When I was contacted to help out with the voice-over, I had no idea what to expect, and I wasn't sure what Phillip was expecting, either. Well, after a few hours of experimenting, we came up with something that I was really, really pleased with. Now, a video has been created to compliment the audio, and I couldn't be happier with the result.
Click here to view the video
, with the voice-over created at
Advanced Budget Studios
.