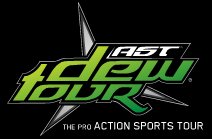 Two days ago, after I got done with the
Salt Flats
, Steve and I went over to something which previously I had never even heard of before. It's called the "Dew Tour".
The event is in Salt Lake City and runs for 4 days during which the best skaters and bikers in the country come and compete.
I was only there for maybe 4 hours, but during that time, Steve and I got to watch the "amateur" BMX Bikers do their stuff.
I know why they call them "amateurs", but other than the technicality of them not getting paid, the title "amateur" reflected absolutely nothing of their skill.
It was absolutely amazing. The whole time I was watching, I was kicking myself for not bringing in my camera. It was the kind of stuff you watch on the Extreme X-Games.
I did get a couple of shots of the park they biked in, but that's about it.
I've gotta plan better next year to attend more events.