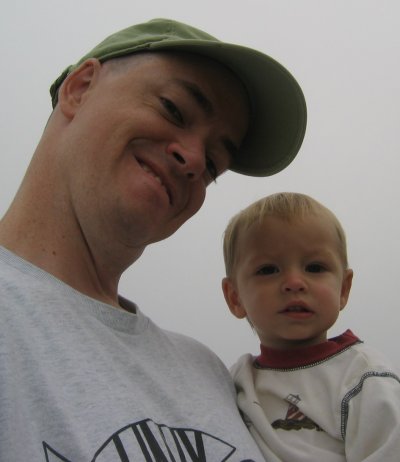 Today's not over, but while the kids are taking naps, I thought I'd see what I could do to write about this day so far.
First off - I
*love*
Monterey. Last night, I don't think I got a whole lot of sleep, but notwithstanding that, I still woke up in an incredibly good mood due to the crisp salty air, the perfect temperature (around 60-68 degrees all night long), and the beautiful people all around me.
Life is good.
After a shower and some complimentary breakfast muffins and orange juice, we were on our way to the beach.
The beach was absolutely perfect. We arrived to one of the many, many beach choices here and almost nobody was there.
We first took interest in a tide pool which was amazingly thriving with life, as always. There were various types of crabs, sea anenomes, fish, star fish and all sorts of other things moving around in there.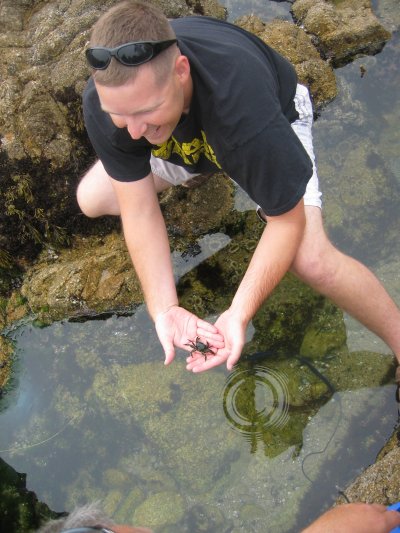 Collin was extremely interested, yet quite cautious about everything going on. The sounds of the waves slamming on the rocks around us probably scared him a bit and the unfamiliar surroundings probably kept him on edge. Luci was a bit more settled, but she didn't want much to do with the rocks or the sand. She had fun on Shugee's back for most of this portion of the trip.
Craig caught a couple of crabs, and the kids thought that was pretty darned cool, as did I.
We then headed over to the actual beach for a bit, and I ended up just standing in the water enjoying the crisp, cool air and the mezmerizing, yet soothing sounds of the waves all around me.
I could have stayed there for a good 2-3 hours without even knowing it.
However, with the kids getting hungry and everyone else just generally having had enough of the cold, they all left. I hung around for a couple of minutes longer, just to take it all in... Then we all left to go to:
Dennis The Menace Park
Yup... This park was pretty darned cool. It was complete with swings, slides, bridges, sandboxes, mazes, tunnels, hungry birds, and other very cool things for kids to play on.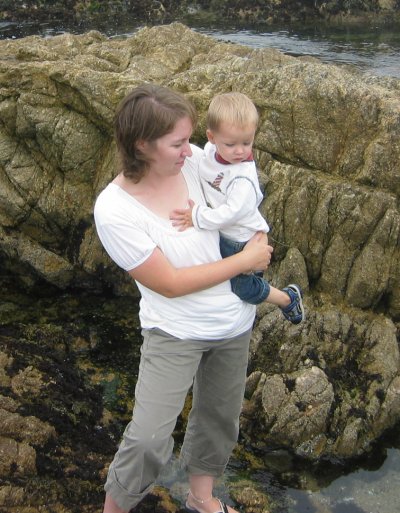 We had a pretty good time there for a bit, and then it was time for lunch.
We had hot-dogs and home-made sub sandwiches. Good stuff.
Then we came back to the hotel and everyone is taking naps now.
So far, so good...
Man, I tell you.. There is something about the beach that totally takes me in. I'm not sure what it is, but most likely it's a combination of all of the elements at play.
I simply love the temperature here. I'm 99% sure my mom would absolutely love the beaches here. The water is freezing, and the air is chilly, but not too cold. The air is usually foggy with just enough sunlight coming through to keep sweaters away.
And then there's the sound of the water and waves coming to shore. Holy cow, I love that sound. It is
so relaxing.
It amazes me.
If I had enough money, I'd definitely buy a house down here to live once in a while. It is, however, insanely expensive to own land here - and is currently completely out of my league.
Ah well... Ya never know what might happen in the future....