Ya know, sometimes in this business, you've gotta use ingenuity. And then there are other times you've just got to call it quits. I'm really glad we didn't choose that option for last night's session, because it turned out just fine...
Well.. That is, after we spent hours trying to figure out how in the world we were going to accomplish the task.
Let's just say, I've got to invest in a guitar capo - and it won't look like this.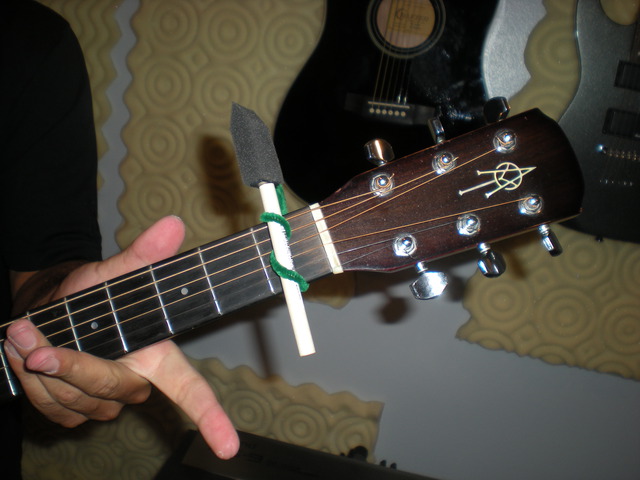 "What the hey is that!?!?", you might be thinking to yourself... And it would be a perfectly valid question, too. That, my friend, is ingenuity at work.
Well, okay... Not quite ingenuity, because it ended up not working at all... But I just had to take a picture of it.
So the story goes, that a wonderful singer, Jenna Mennel, came over to the studio with my good friend Jason Taylor last evening, and needed to have a demo done of the cover, "When You Say Nothing At All" by the time they left. It was supposed to be a quickie, but ended up taking five and a half hours to complete. This was mostly due the complete lack of a capo, and the song demanding one.
We ended up deciding to change the key, and thanks to the chops of my friend J.T., once that was determined, the song came together quite quickly. But believe me, we went through all sorts of heinously bad ideas to come up with that one. Chalk it up to a good learning experience.
When all was said and done, Jenna and her sister, Shelby, left the studio with the demo finished, and I got to spend some more time with music and J.T.
Life is still very, very good, and I realize just how much I love good sports and people who can roll with the punches.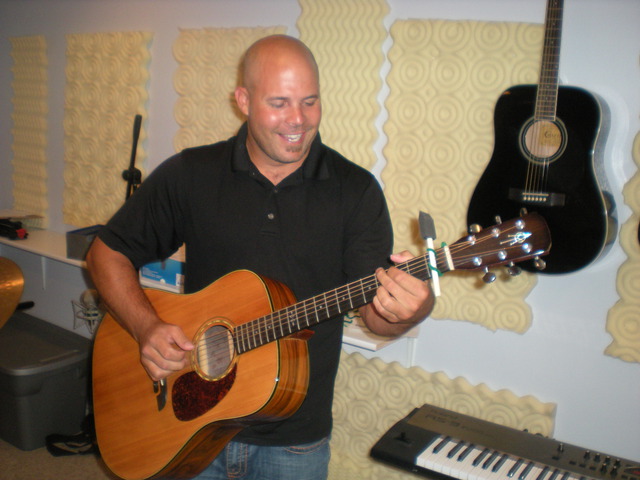 Oh, and for those inquiring minds, Advanced Budget Studios is now the proud owner of a brand-new, shiny, perfectly-functioning guitar capo!
...just in case.