Lucky Day...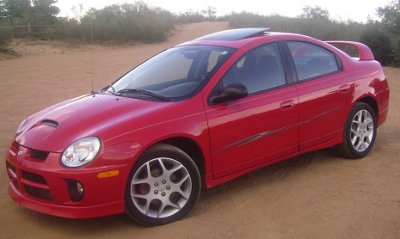 So... This week has been just one blessing after the other. I mean, seriously, it's been an amazing week! I've been recording this great band in my studio, I've been rockin' the code at my day-job, and things are just great.
So, to celebrate my happiness, and general good mood, I decided to take myself out to lunch. I went to Del Taco and got 10 49-cent hard-shell tacos. Oh yeah... I'm living life in the fast lane, buddy...
Well... On my way to Del Taco, I happen to notice a certain type of car, against which I've come to hold a grudge.... Okay, okay... Not just a grudge. I flat-out want to massacre this particular type of car, no matter who's driving it. Yes... You guessed it, it's a Neon SRT-4. Don't ask why... It's too painful a story. Well, okay... Here's the skinny of the history.
When I had first purchased my 2007 Mustang GT, I was putting 85 octane gas in it, uknowingly crippling it's potential for power. In this state, I was on I-80, when an orange Neon SRT-4 pulled up and wanted to race. I was positive I was gonna blow his doors off. heh... yeah... He beat me 2 out of 3 times, and I was left dumbfounded. So now that I'm wiser, and have my mustang properly tuned, modified, and raging like a racehorse, I never let an SRT-4 go untouched, nor unhumiliated.
So, anyway... Earlier today, I'm on my way to Del Taco on the freeway when, I notice this Neon driving behind me, and come to find out it's a 20's-ish-looking girl driving who looks like she's ready to take on the world - with guns-a-blazin'!
So, we play cat-and-mouse a bit on the freeway (keeping the speeds reasonable, because freeway racing is just stupidly dangerous), and turns out, we both get off the same exit.... and also turns out that we get stopped at the same red stoplight, first in line.
So, with engines roaring, as soon as the green hits, we take off like bats out of Hades, and within seconds, I'm at least 2 car lengths ahead of her, as well as about 50 MPH over the 45MPH limit... So, I slow down, and we give each other a "thumb's up", and then, as we're casually passing over a little overpass, she speeds up slightly to get ahead of me, and since the race is done, I see no problem, so I gracefully slow down and let her pass by.
It's about this time, I notice the cop sitting in the drive-way of a residence right off the overpass... Ouch...
I look at my speedometer, and I'm doing about 10 over. She must have been doing 20. We both pass the police officer, and after I pass him, he immediately turns on his lights, and exits the driveway.
I, of course, immediately pull over...
The cop then passes me, and about this time, I just can't believe my luck. As I turn into the parking lot of a Walgreens, I happen to catch the glare of my new found friend in her nice shiny red Neon SRT-4, and I can't help but chuckle as her anger must have been boiling over. Rightly, so! I mean, she was being pulled over after having been totally speed-beaten by the guy who is getting away scott free.
I hope she didn't see me chuckle. That would have been just rude.