Mustang GT vs. Camaro vs. GT500
Last Saturday, I woke up much earlier than I should have in order to go down and help my good friend Scott wash his cars, in preparation for his selling them.
After washing his other two cars, we decided to wash my car, and to be honest, I was a bit skeptical as to how this "great new car washing" system would work. Well... When we were done (it took about 2 hours to wash it, with two guys washing it), my car looked like it had just got off the show-room floor. This car is just under 3 years old, and has been driven daily. I can't believe how good it looked.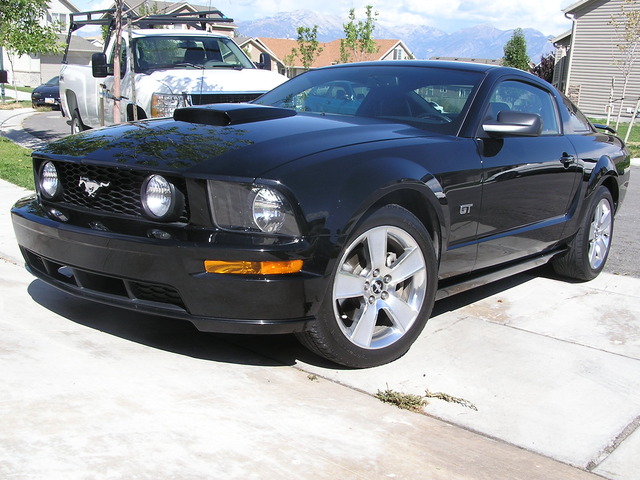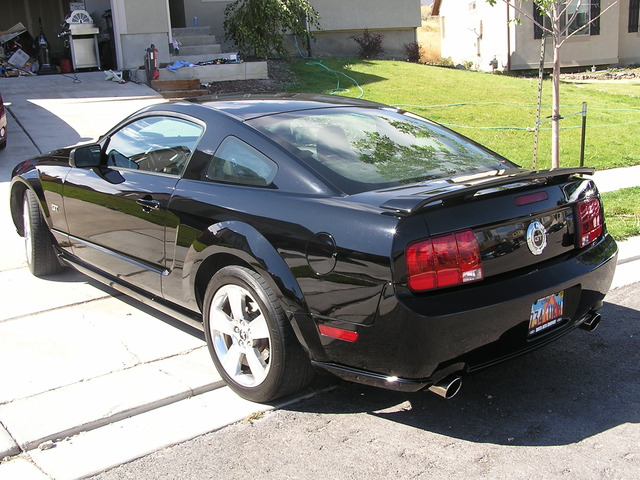 I mean..... DAAAANG! Anyway.... Those pictures don't do it justice. It shone like it's never shone before. I'm getting some of that cleaning stuff from Scott's source, for sure.
Anyway.... That evening, I, of course, wanted to go drive it, so I did. I was driving west down Highway 6, when I saw a new 2010 Camaro SS zoom past me the opposite direction. I contemplated turning around for all of about 2 seconds before I pulled a U-Turn, and tried my best to catch up.
Hehe... Boy am I glad I did. That Camaro had seen me coming, slowed down, and was ready for a fight.
As I crept up on him, I noticed he had 4-inch exhaust, and that it wasn't just the tips. The sound coming from the dual mufflers was that of a chained up dragon - just waiting for the chance to unleash its force.
So, as I came up to his side, he gave it a little grunt, letting me know he wanted to play, and the shot was fired!
I had my windows up, so I thought it wouldn't be too loud, but as I mashed on the gas, and heard my engine roar, it was only a matter of seconds before I heard what I thought to be two .50 caliber machine-guns shooting out of his exhaust as he passed me.
He passed me so fast, I was kind of dumbfounded. It was quite possibly the coolest thing I've ever experienced on the road. That Camaro had to have been supercharged.
So, as he slowed back down, and I was giggling like a schoolgirl after seeing her crush flex his muscles the first time, I gave him the "thumbs up", and immediately slammed my right foot to the floor. I passed him accelerating as he was braking...
He didn't like that.
This time, I had my windows rolled down, and holy-beyond-words-moly. As I passed him with everything I had, I didn't even get a whole car-length in front of him before he passed me, and as he passed me, I just about went deaf.
The only thing I've ever heard on the street which compares to the machine-gun fire coming out of that Camaro was a kit-car Ford Cobra I had the pleasure of racing once a couple years back - and that wasn't too much louder.
in-sane.
So, I followed him for as long as I could, trying to get him to pull over so I could find out what he had done to his car, before I got the hint that he wasn't interested. So I went home.
Fast forward to yesterday evening, coming home from work.
I passed a gleaming new Mustang GT500, and I wanted to play. Luckily, the guy obliged me, and I heard his 500 horses come screaming out. It wasn't anything compared to the sound of the Camaro, but it was still impressive. As he passed me, I thought, "That camaro passed me much quicker than this GT500 is", so I'm 100% confident that the aforementioned dragon contained in the shell of a new Camaro was definitely not stock. Kudos, bro... Whatever you did to make your Camaro scream like that was well worth the price.
Now, I wonder what it's like to race one stock.... I'm sure it'd be a much closer battle.
Gooood times. I'm just waiting for the day I get to race a new Camaro SS (after I put my supercharger in, of course), along side a new SRT-8 Challenger.
...I only hope to have a video recorder with me.