I really don't know how to begin this entry -
at all.
I'm still sort of in shock, to be honest.
I came to work today with no anticipation other than finishing a project I began two days ago. Seemed like it would be a normal day. That is, until a co-worker of mine came in and showed me some keys which had a BMW logo on them.
I thought to myself, "Cool! I might be able to ride in a beamer!" - and that was about it. I've never driven, riden, or have been otherwise engaged in doing anything with BMWs. I raced an M5 once, and had my hat handed to me quickly, so I knew some of them were fast, but that was about it.
So, we go out to the car he was driving and immediately, I notice how freaking cool it looks.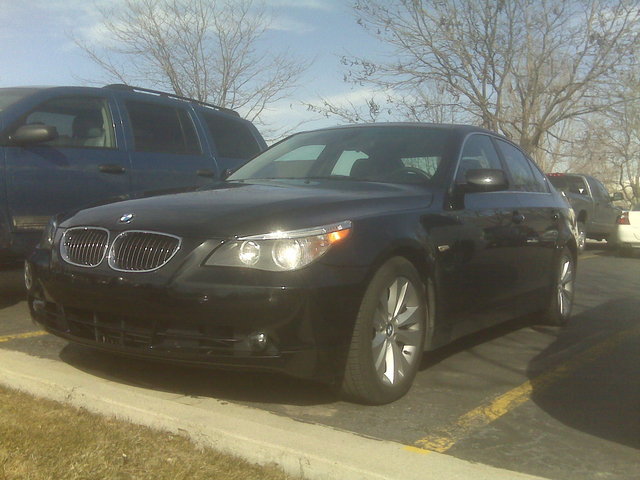 Yeah... It's a 2005 BMW 545. So, I get in and my co-worker is driving and it's all well and good, when he says he wants to let me take it for a spin. So, I politely ask him if he's sure, and he says it's okay. So, I drive around town, not doing more than 70 MPH, and I am impressed..... But not much more.
I then ask him if I can take it to the freeway and he reluctantly agrees that we can do 1 exit.
Now, people, I really wish I could convey what happened next, but I can't. Inside, I'm still completely dumbfounded.
My brother once told me he did 175 MPH in a BMW Z3 Roadster, and that was fun to hear, but now, I understand why he was so blown away by it.
When we hit the freeway, I anticipated seeing how it accelerated from 60 to 100 MPH, but after only a few seconds of being on the freeway (being used to driving a 2007 Mustang GT), I looked down to the speedometer, and I was already doing 100 MPH.
I COULD NOT BELIEVE IT.
I just kind of looked at it in disbelief for a second or two.
...
Then, when my mind registered that the possibility of my going 100 MPH at that moment was probable, and most likely accurate, I ...... was flabberghasted. That's the only word which could describe it.
I simply could not believe that with the car being as silent, smooth, responsive, and agile as it was, we were really, in actuality doing 100 MPH.
I felt like I was doing 50,
maybe.
Those of you who know me, know that I like driving. I enjoy the exiliration of quick acceleration and high speeds. No doubt about that.
In the BMW I was driving at that moment, there is no doubt in my mind that
my mother
who gets more paranoid about driving by the day, would have no problem whatsoever driving at that speed. The only indicator that I was going that fast was the traffic passing by me at a quicker pace than usual. Honestly, it was very, very impressive.
I guess when they say that the BMW is "the ultimate driving machine", they mean every single word of it.
Still, an hour after I've left the car, I have the same feeling I had after I went skydiving. Simply unbelievable.
I'll stop now.
Later on during lunch break, we're probably going to race my Mustang against it. It's gonna be a fun race, for sure.
Here are some more pics.