Wow.... This is gonna be one of those entries which might just take up an entire novel, if I were to write down what I wish I could.
To begin, yesterday Sarah and I went to Vegas to celebrate Shaun Roos's birthday.
The whole kit-'n'-kaboodle began about a month ago when Tiffy, Shaun's girlfriend, emailed me asking me if I thought I could come to a party they were throwing for Shaun. heh... Little did I know what I was in for.
Let me see if I can remember...
To begin, Shaun didn't know anything at all was happening until the day before we were all supposed to leave, and at that time, he thought only he and TIffy were going to Vegas. Shane, his wife Becca, me, and Sarah were all going to show up while they were at the airport.
It turned out beautifully. I wish I would have been recording the whole thing, but I didn't.
We showed up there after everyone had arrived, and when we turned the corner, the look on Shaun's face was quite priceless. He probably thought it was a coincidence at first, and then, when he realized that everyone was there for him, he was beside himself. It was awesome.
We then had the best flight possible. During the hour and a half flight, we managed to tell an undercover flight-attendant there (her name was Hillary) that it was Shaun's birthday, and she made everyone sing to him while she was singing over the intercom. It was hilarious. She then made him a crown of peanut bags, and it fit to perfection!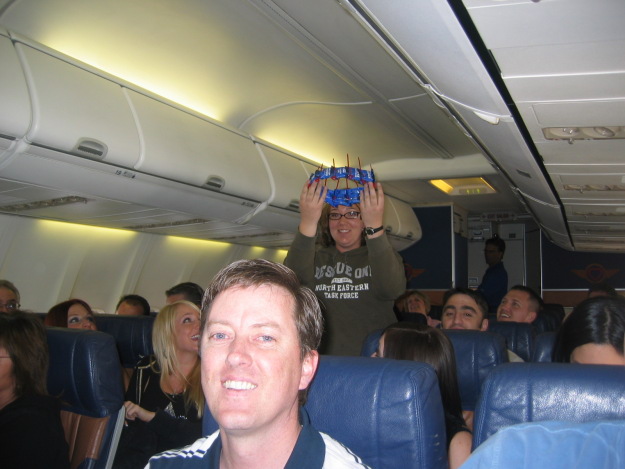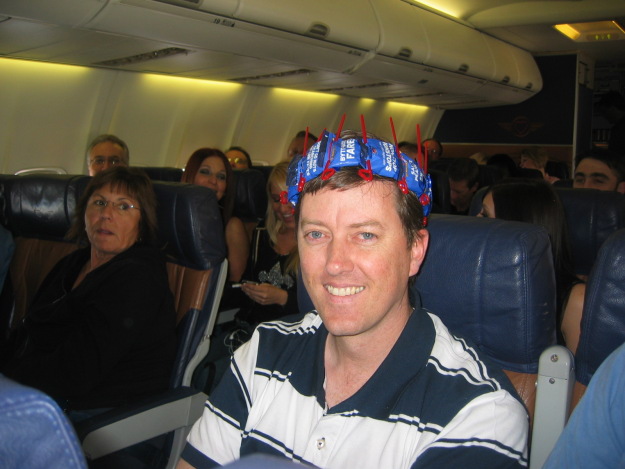 It was a freakin' blast.
Then, when we landed, we found that Tiffy had rented us a Limo to take us to the Golden Nugget, where we were staying.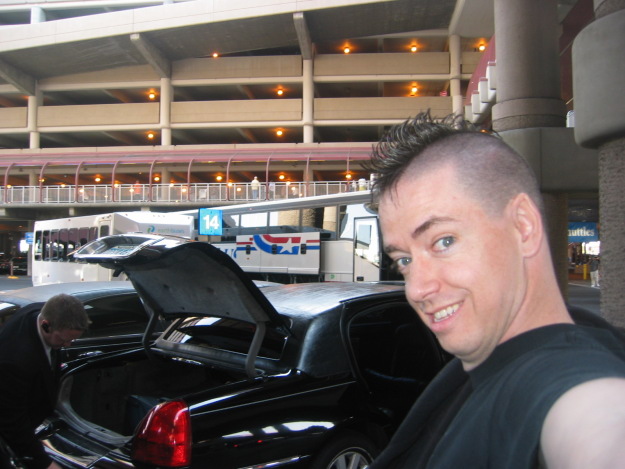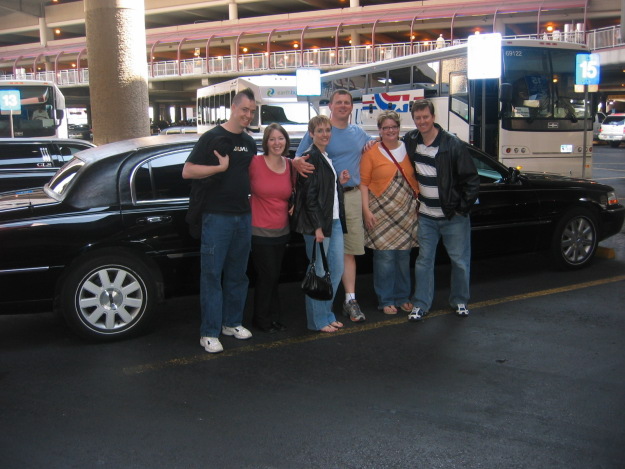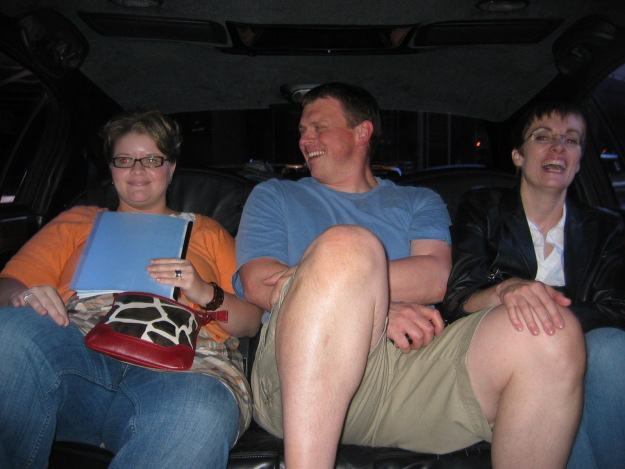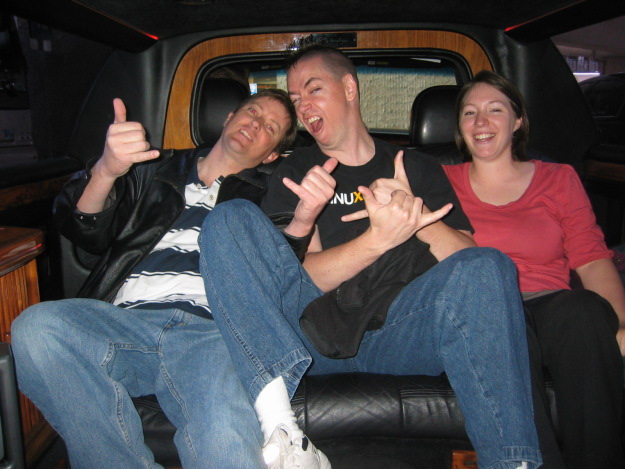 So... That was the limo ride.
We then decided the different things we were going to do.
First on the list was a visit to the Vegas Wax Museum. That was pretty darned fun.
I took a bunch of videos with my camera of the wax museum, but the quality is pretty bad. Here's a couple of pictures of the event. Suffice it to say it was worth the price of the ticket. The detail on the models is kind of scary.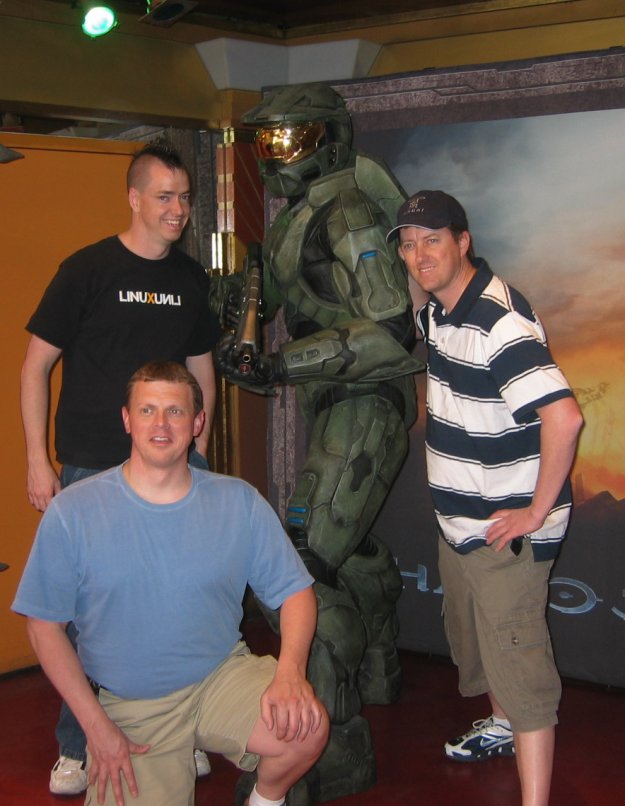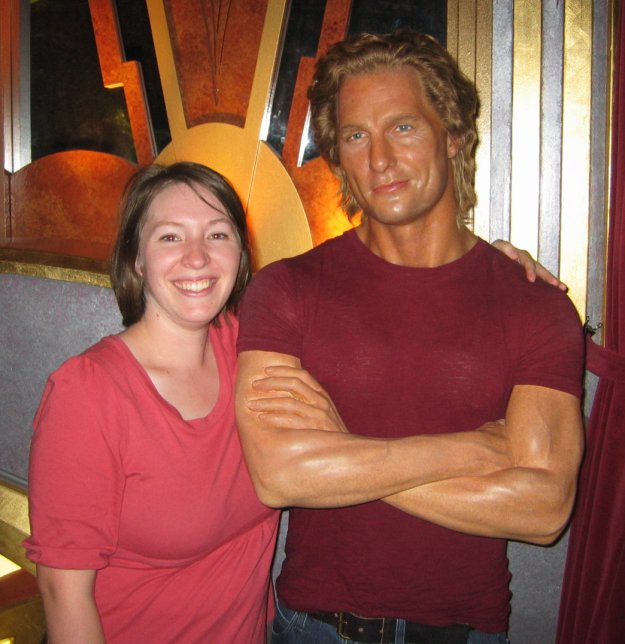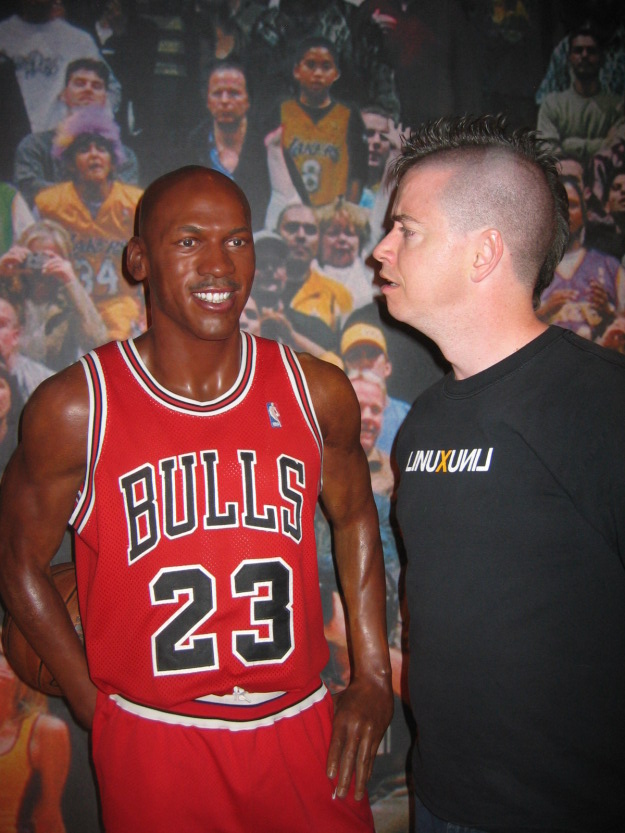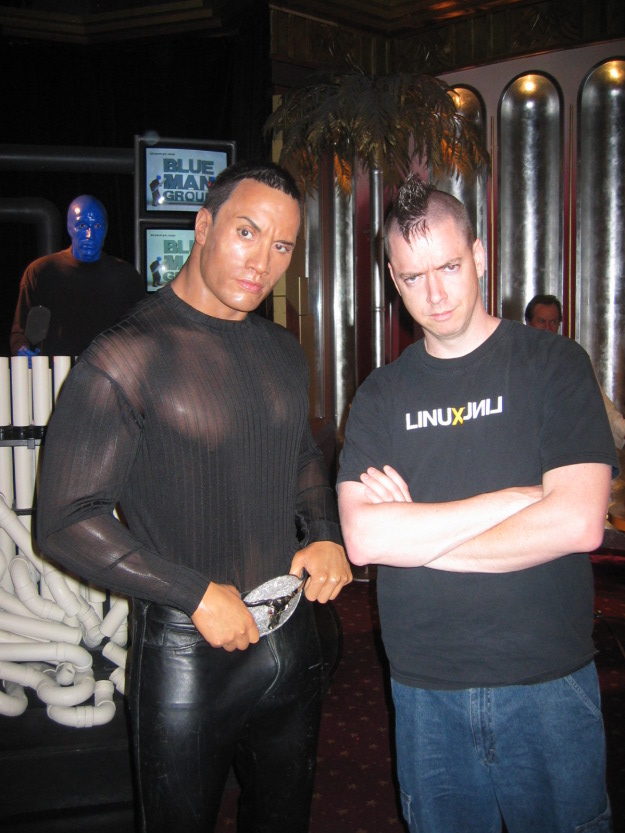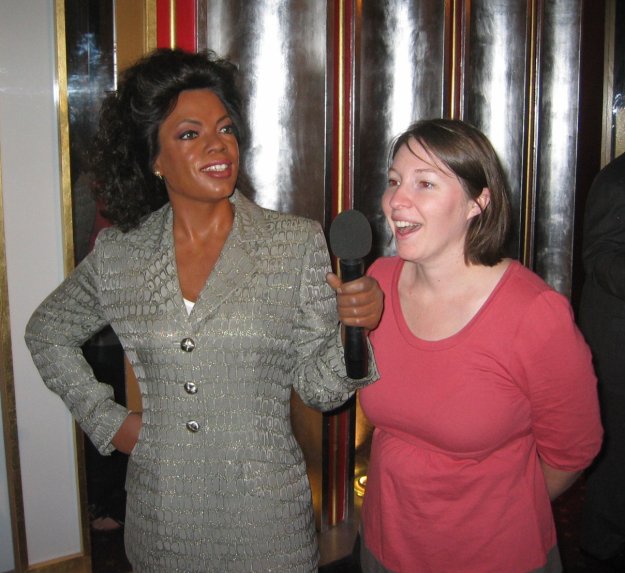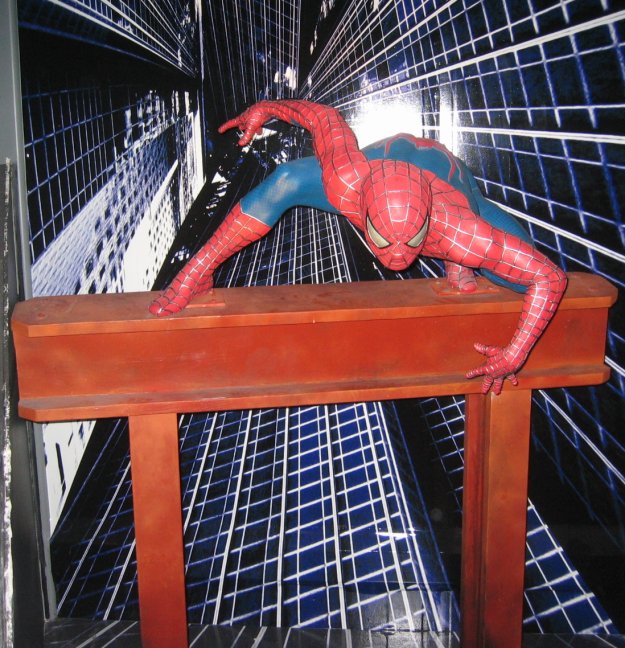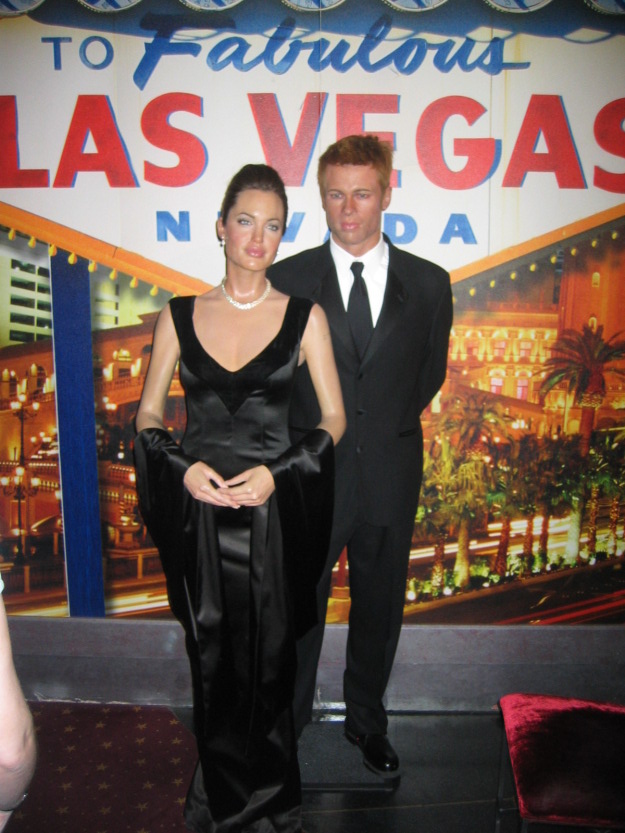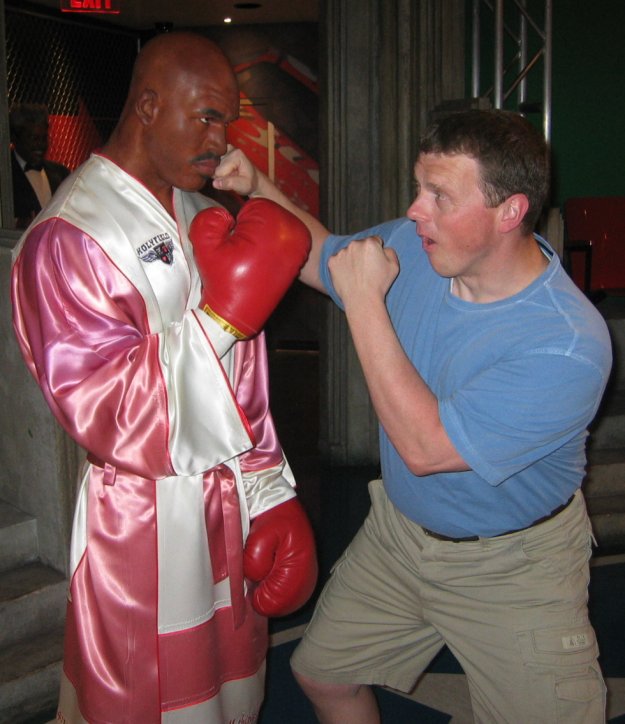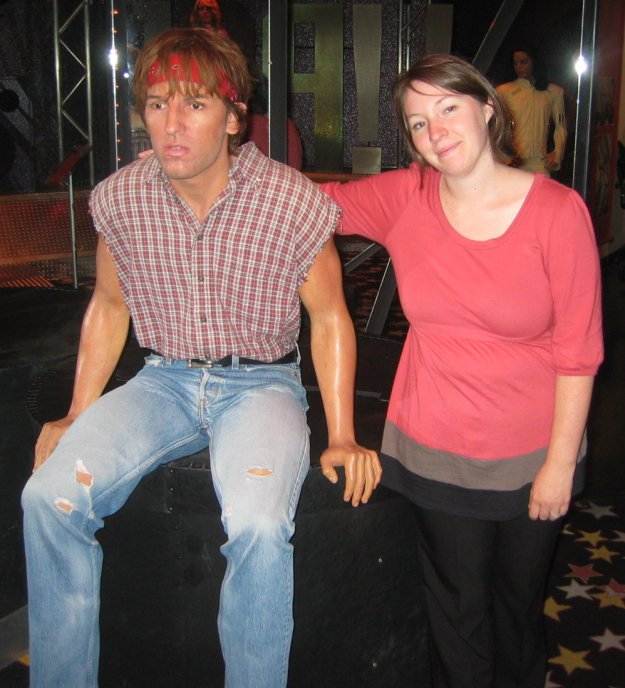 After the wax museum, we decided to hob-nob around the pool for an hour or two.
Tiffy had rented us a cabana, which came with a cheese 'n' cracker plate, water bottles, TV, couches, and a cute ceiling fan to boot!
But that wasn't the coolest... The coolest for me, by far, was the shark aquarium in the middle of the pool!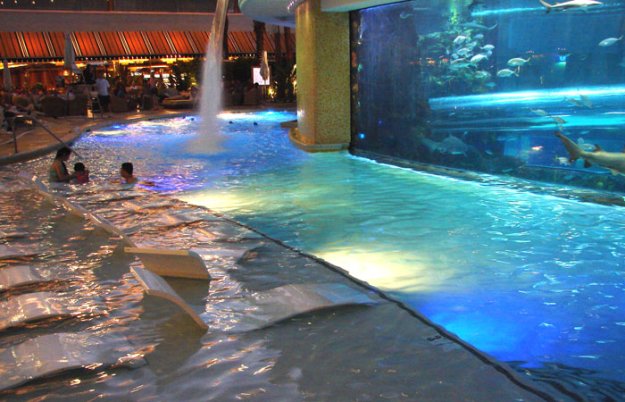 Yeah, freakin' sweet, right?
I didn't get a picture, but they also have a water-slide which carves itself right through the shark pool! The water-slide tube turns to glass, and, if you're not going too fast, you can see the sharks around you as you go down the slide! Freakin' cool!
So, we lounged around the pool, hot-tub, cabana, 'n' stuff for a couple of hours, but didn't want to take too long at the pool.
You see, Shaun told us about this international buffet at the Rio which he claimed would be the end-all be-all of buffets. The last time he ate there, he gave himself 30 minutes to eat, and he said that just didn't do it justice.
So, with an hour and a half to eat, we left the pool, changed into our good clothes, and were on our way to the international buffet!
Upon arrival, the place looked good. That is, until we turned the corner, and had to walk by an exotic dancer on a table to get to the buffet, but a moment later, we were seated at our table, and ready to eat.
The food was pretty darned amazing. I ate crab legs, 4 different types of shrimp, sushi, cajun chicken, orange chicken, some weird cabbage thing which tasted funny, chocolate cake, an ecclair, and about 10 other things I can't remember. Wow, was that yummy!
We didn't want to take too long to eat, and having left ourselves abundant time for travel, we mozied on down to the main event. With my tummy full of good food, and the caffeine kicking in from the Mountain Dew I drank, I was good to go...
But, yes. Little did I know the treat I was in for.
You see, I've never been to Vegas just to go to Vegas. In fact, I've kind of scoffed at the people who used to take weekend trips to Vegas while I was in college. I couldn't understand why they would want to go there.
Now I do.
Tiffy had arranged for us to see a show called "
Ka
" by
Cirque Du Soleil
. We grabbed a Taxi and holy moly...
I had to write a
whole other entry
just for the Ka show.
Click here to read it
.
Anyway... After the show, I had the misfortune of walking down a road (not sure if it was the strip or not) to get to the Bellagio for the water-show.
Dang... I know why they call it "Sin City". There were at least 20 people scattered over an expanse of about 8 blocks passing out cards for prostitutes. Man alive, that was
not
fun.
The water show was amazing, however.
After that, we headed home, lounged in the chairs by the pool, and turned in for the night.
Happy Birthday, Shaun!
And thank you SOOOOOOOOOOOOOOOOO much, Tiffy, for making this one of the most memorable trips I've ever taken in my entire life.