Hehe.... I love it when I learn new stuff about Springville.
I had no idea that there existed a place in Springville that was
absolutely perfect
for racing. Now we're talking 0-80 MPH racing in a straight line. Nothing curvy or anything like that. So... Anyway...
My co-worker, Steve comes into my office (or rather, the closet) with a grin on his face and asks, "Wanna race?". I look at him somewhat inquisitively and say with no hesitation, "Sure! Bring it on!".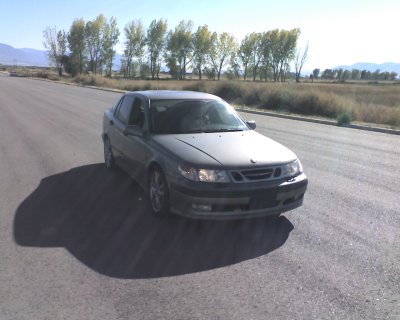 He then tells me his brother let him drive his Saab 950 Turbo and I couldn't tell if he was serious about his question. He then told me he had a few things to do, but could go shortly thereafter.
Anyway... Make a long story short, my boss not only encouraged us to go race, but he also came with us. hehe.... I love my job.
So, my boss tells me of the aforementioned location frequently used to land RC planes and racing and stuff, and I say "let's go!".
We arrive there and sure enough, there's a straight, smooth road a couple hundred feet long (not enough to do a quarter mile, and still have time to stop), and I just smile.
We turn around and my boss gets into my car (because he thinks I'm gonna smoke Steve, and thus gives me the extra-body handicap), and proceeds to vocalize the countdown.
"
3......2.......1.........GO!!!!
"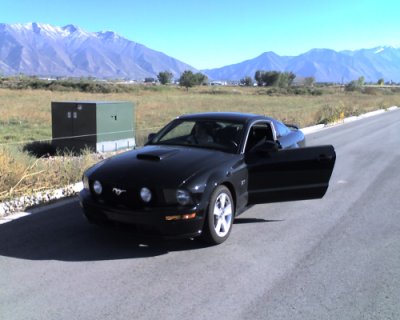 So I mash on the gas, and sure enough...... From start to finish, I blow Steve out of the water.
But that wasn't the best part - tee hee.
During the run, my boss was with me, and he likes talking about fast cars 'n' stuff, so I think he's been in a race or two. Permit me a chuckle or two....
When I was in first, I could tell his face changed a bit, and then when I hit 2nd and spun the tires much more than just a chirp, he let out a "
Holy shiz!
" (yes, he said shiz, he's a good man) and I just grinned from ear to ear.
Anyway... We raced two more times, after smoking him the first time by at least 3 car lengths.
The 2nd run, he started a car-length a head of me, both stopped. I smoked him.
The 3rd run, he started and I allowed a full car length before I started. I still beat him.
heh.... I love racing.
To Steve's defense, again, this wasn't his car - but everything I know about racing led me to believe that Steve does indeed know how to drive well. I'd like to race him again in a car more suited against a 2007 Mustang GT.
Gooooood times! Made my day.