Okay... As most of you know, I use Linux for pretty much everything I do which requires a computer. When I started using Linux, I waffled between
KDE
and
Gnome
for probably 6-10 months when I finally settled on Gnome. I haven't looked back since.... almost.
About 6 months ago, Gnome came out with a release which implemented their own version of a screensaver. I personally thought their screensaver wasn't even close to the already competent
xscreensaver
which I had been using, and watching improve for years.
So, I immediately wondered how to integrate the features of xscreensaver into gnome-screensaver, and found it to be somewhat of an annoyingly "more complex than this should be" type of a scenario. So, I got a hint of a bad taste.
Since then, I've been monitoring Gnome a bit more closely, and with each new version, it seems to get better in most areas, but more annoying in others. It seems to be getting a bit deeper into itself, and less worried about what the community thinks. It also takes forever to install, so....
I decided to switch - yesterday.

I installed
XFCE
onto my old Pentium-4 machine which I use at work (
eat your heart out
, Vista), and surprisingly, there were only a handful of packages to be installed, and most of them compiled in under 5 minutes.
A little under an hour later, I was loading up XFCE and messing around with it.
Now, before I go on, my good friend
Steve
has been using XFCE for years and when he initially settled on it, I gave it a try. I mean, I tried
gentoo
on his recommendation, and absolutely loved it, so.. anyway... This was about 2 years ago.
When I used XFCE then, it was so bare-bones and user-unfriendly, I took one quick look, and went straight back to gnome. Everything had to be configured using configuration files which didn't even exist initially, it didn't recognize any existing applications, menus were bare, etc.... It wasn't fun.
Anyway... When I installed XFCE this time, it was quite a different story.
Using this tutorial as my guide, I did a quick
emerge -v xfce4
and I was on my way.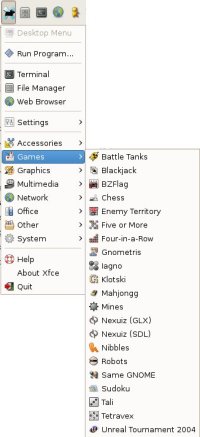 I emerged XFCE version 4.4.1 and was pleasantly surprised by the default configuration this time.
The menus came up with even more programs than gnome recognized by default, which was a complete surprise. The icons looked nice, and the settings control panel was very easy to read, and somewhat comprehensive at first-glance.
With a quick emerge of some extra applications (
emerge -v xfce4-extras
), I quickly found all the apps I needed to be productive in a development environment.
Simply beautiful. I was up and running in about 2-3 hours.
There was one very odd quirk I was noticing, though. The fonts in XFCE were.... like... very weird.
In some applications, the fonts were just fine, and in others, the main font was so small, it was almost unreadable. So, I did some digging.
I found out that inside the User Interface Settings panel, there were tools a-plenty for customizing your fonts...
So, I played around with the fonts for a bit, and within 20 minutes I had found the font configuration which suited me just fine. Everything looks the same as it did in Gnome, font-wise.
The settings for the fonts are:
Font -> Sans 10
and
Font DPI->96
and that seemed to do the trick!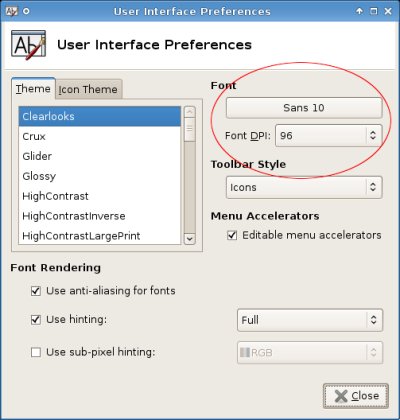 Anyway... I've only been using XFCE for a total of about 1 day now, so we'll see if any more quirks come up. I hope not, though because so far, XFCE has been very light-weight, configurable, and robust enough to do everything I need it to do.
Oh yeah... It also uses XScreensaver. Buyah!