Wow.... The last time I woke up (apart from a nap I took today) was Thursday morning, and HOLY COW, craziness has happened.
The whole mohawk thing, which I thought was over, escalated to a point where it pretty much boiled over causing Kim to attack my and Sarah's parenting skills, and for them to leave in a rush without allowing Julia to say goodbye. Yeah, I probably won't be doing anything with Kim or Henry for...... quite awhile. Anyway... Apart from that, there was lots of goodness which happened. I'll spend most of the journal entry on the positive, so as to not sling unnecessary mud around.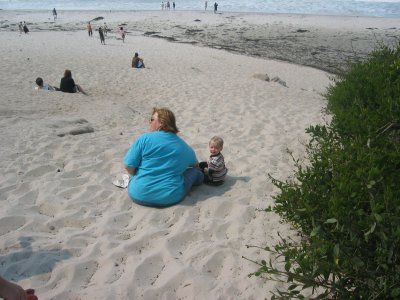 I woke up Thursday morning in good spirits, ready to attack the last day I was gonna be spending in splendid Monterey. We all decided to go to the beach, so that's what we did! We packed up and headed out to
Carmel Beach
which is one of those beaches that just has tons of white extremely fine sand. It was one heckuva windy day, but I didn't seem to care at all. We went down, spread out a blanket, and almost immediately (which has become somewhat of a tradition), Julia and I took off and walked along the beach to talk.
This time, Julia told me lots about her plans for life. She talked about how important college was to her and a good education. She also made it very aware that she was anxious to be free from certain oppressive hands.
Her talking about her parents really made it obvious to me how I want to parent. Kim and Henry all complain about the fact that all their kids move away as soon as they are able. Hmm.... I wonder why. The sad fact is - their last kid, Julia, isn't gonna be any different. She's so anxious to get out and away from her parents, it's not even funny. She'll bolt the moment she's able.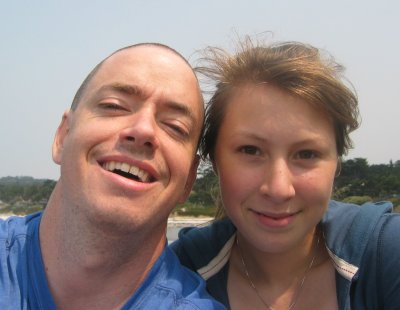 As you can see, Julia isn't too bad looking, either, and she's smart to boot! She'll do just fine on her own in a few short years. It's just a shame that her parents don't get it, and soon - they'll be all alone...
...and if they're not careful, they won't be able to see any of their grandkids, either - but that's a
whole
different story, the likes of which I refuse to discuss publicly.
Anyway.....
We walked 'n' talked on the beach, during which I managed to backhandedly bear my testimony to Julia about my belief in God, the Church of Jesus Christ of Latter-day Saints, the Book of Mormon, Joseph Smith, the law pertaining to each decsion having a consequence - either good or bad, and a few other morsels of truth.
I also managed to talk to her about my marriage, and the importance of marriage, and marrying the right person, and the spiritual reasons for having kids and all that good stuff that is so important to me. I talked to her about that because she seems to be pretty anti-marriage / anti-have-kids right now (we can only guess why).
You see, Julia is in a stage of her life where she's forming opinions about various religions and I'm sure her wonderful mother has managed to poison her quite effectively against the Mormon church. I'm doing everything I can to counter-attack that effort, because Julia is simply just too important of a person.
Enough said.
Julia and I must have been chatting for a little over an hour, when my phone rang with my wife telling me that everyone was leaving, and for us to head back. So, we did!

After the beach, we went to the wonderful Monterey Aquarium, and managed to get in there right as they were feeding this like.... gazillion-gallon aquarium they have there. That was
so
interesting. I loved it.
This guy scuba-dove into the tank and fed the fishes from a baggie. Holy cow, those fish went nuts. It was really interesting also because the diver had a microphone, so he could talk to us. We asked questions and he answered while he was feeding and swimming around. I'm glad I went there.
After the aquarium, we all went and got some ridiculously high-priced cinnamon rolls, and went back to the hotel to call it a night (feels like I'm missing something, but... I don't seem to remember what.... Anyway...)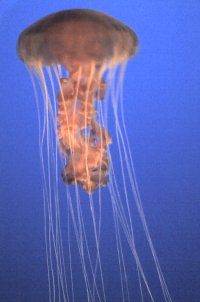 It was about this time that Kim's explosion happened, and she and Henry decided to leave quickly thereafter. Yeah... That was fun. I
still
feel anxious about that whole ordeal. Man alive, I'll never understand my parents-in-law. Henry had this "little chat" with me after the explosion and pretty much wanted nothing but to attack and belittle me as much as he could. He's pretty good at it, too. I actually found out I care quite a bit about him because he managed to hurt me more than I thought he could. I couldn't care less about Kim, but Henry.... I value his opinion. I'll have to get over that one. Anyway...
After they left, I knew I wasn't gonna sleep a wink, so Sarah and I started packing up and decided to leave around 10:00pm Thursday night. We had planned to catch a little sleep, and leave around 3:00am this morning, but I knew I wouldn't be sleeping.
The drive home allowed me a lot of time for reflection, until I got so tired I could hardly stand it. I managed to drive 12 hours before I felt I was gonna drive off the road, and about that time everyone started waking up, so I let Sarah drive.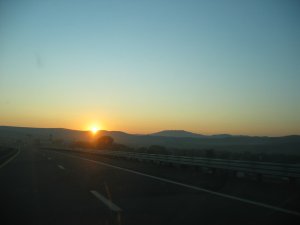 The picture is of the sunrise this morning on the road.
We arrived home around noon, and I immediately went and took a six hour nap, helped Sarah clean the house a bit, and then came down here and started telling you about all the craziness.
All in all, there will be many memorable moments of this trip, and believe it or not - I believe most of them will be positive. I've just got used to Kim exploding once every 2 or 3 years. The part I really didn't like was how Henry managed to let me know how he really felt about me, and I was surprised how much it hurt. Time will heal this wound quickly, though. I'm just happy to be home, although I'm not anticipating the heat here in Utah. Not a bit.
Tomorrow we're making a trip up to Jackson Hole, WY to see Andrea complete a bike-race which is the longest bike-race in the USA. I believe it's called the "LOTOJA" race.
It will definitely be refreshing to be with sane parents again.