So, in the business of audio recording, it doesn't get much more fundamental than 1. Room Acoustics, 2. Sound Source, and 3. Microphones.
One of those three basics is about to get a serious upgrade here at Advanced Budget Studios.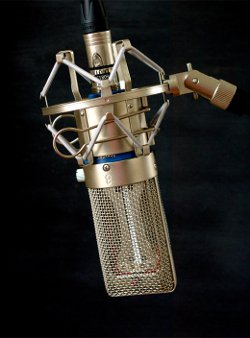 Today, Michael Joly of
OktavaMod
is modifying two Apex 205 ribbon microphones, and will be shipping them back early next week. He is so good at what he does, and is so much in demand, that there is a waiting period of 2 months before you can get booked. I've been waiting for this day since the middle of February.
I took the time to read a very long
thread
over at
this audio forum
and the results of what I heard all but completely dumbfounded me. Amazing results, these microphones have. ...and A.B.S. is about to get two of em'!
They will undoubtedly be the new powerhouses of the studio, replacing our current star, our Trion 7000, on electric guitars, and for some applications, replacing our AT 4041 pair for drum overheads and acoustic guitars.
Can ya tell I'm excited!? These mics are sure to add some serious fidelity to the recordings in this little Utah recording studio.
Next week can't come fast enough.