Ya know... Sometimes I hate open source. Most times I love it, but sometimes I hate it.
I recently updated my gentoo gnome installation to 2.24.2, and didn't think much of it. I then tried to connect my Nikon S210 digital camera to my usb port and perform the simple task of importing photos. I have done this probably 100 times successfully.
This time, however, a new window popped up telling me, "
Oh! We found a camera on your system! Do you want me to act like windows and try to do everything for you?
" Well... Okay.. That was a bit harsh, but it was slightly annoying.
Anyway.. Here's the screenshot of what popped up.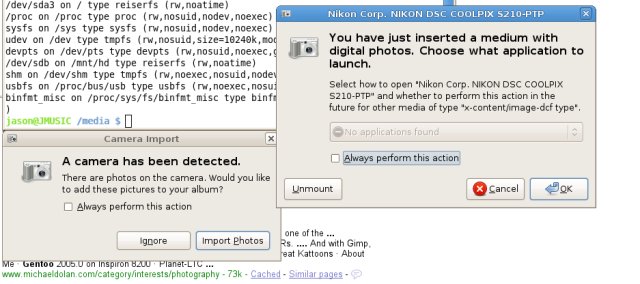 So, thinking to myself, "Nope.. I know what I want to do with the photos, so, I clicked "Cancel".
I then tried to start up digikam, and it didn't say anything, other than it wouldn't import, or show, anything. I tried flphoto with the same results. So, I'm thinking, "
Great... I've gotta go through gphoto2's fabulous CLI interface to figure out what the heck is up."
Not exciting. But then I found gtkam and that saved me a boat-load of time.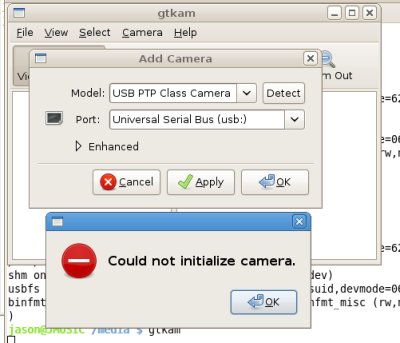 gtkam basically gave me the finger, too, but it told me a bit more than nothing. It said "Could not initialize camera". I could successfully detect it with no problem at all, but immediately after, it flashed the error message.
Tried as I could, I couldn't do anything about it. I tried emerging the unstable tree, and then re-configuring the use flags. Uhhh yeah. Nothing.
So, I went to my other computer and downloaded them there. No problems at all. In fact, I was using the same version of gphoto2 on my 2nd computer as I was with the one having the problems!
Yeah... Not happy times for me.
Anyway.. To make a long story short, I came down today and saw my camera sitting there on the floor and tried to have another go at it, because I just can't leave broken alone.
This time, I notice the "Unmount" button on one of the two boxes that pop-up. So, I click "
unmount
" and then load up gtkam.
Yup... It detected the camera and loaded up the images just fine. ARGH!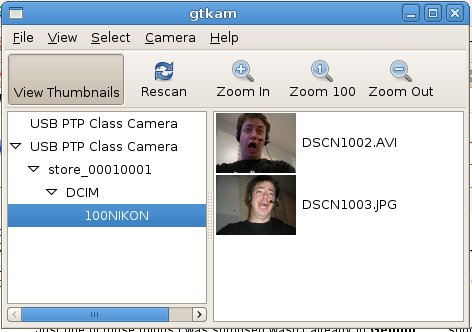 So, yeah... Everything is good again.
I just wish little gotchas like that would be thought-through before they're pushed live.
Why render such a hugely popular program such as gphoto2 useless by auto-mounting the friggin' camera as soon as it's plugged in???
Not cool.
Not cool at all.
So, anyway.. Yeah.. To fix this problem, simply do the following:
JUST CLICK THE UNMOUNT BUTTON IN GNOME'S AUTO POP-UP BOX AS SOON AS YOU PLUG IN YOUR CAMERA
That should do the trick quite nicely.