Lately, I've been viewing a few Disney flicks on DVD. I got Bolt and Bedtime Stories. Because I usually rent them on redbox and can only have them for a day, I will rip them, and then when I get around to it, I'll watch em' then delete them. No problems with that, as far as I can see. I rent them to view them once, and that's what I do.
Well, lately, Disney DVDs have been tougher to rip. The table of contents listed by dvd::rip had me confused for a bit. Take a look at the screenshot below: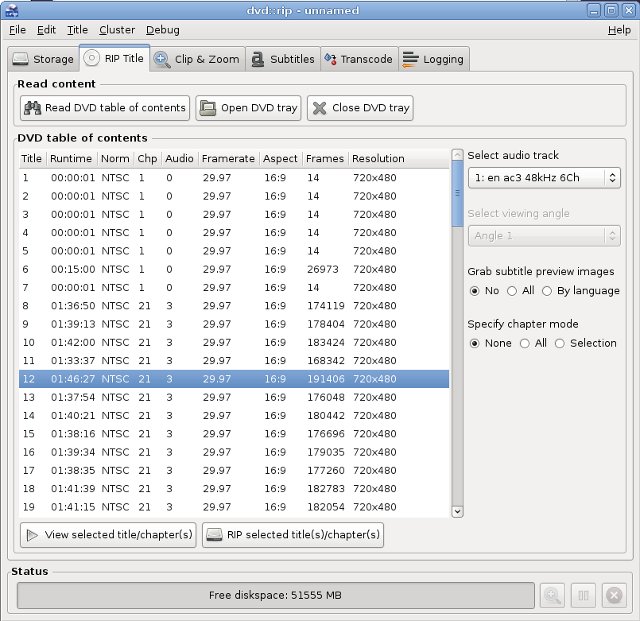 You'll notice that titles 8 through 19 (actually through 42, offscreen) all seem to be full-length movies. So, if I try to play any of them on mplayer, mplayer fails and doesn't play anything. VLC works just fine, if you play it from the menus, but what if I want to rip just the movie, with no menus?
Well, using vlc, you can see what title is actually playing, so while viewing the movie, I right-click and see what title is actually playing, then use
vlc
(version 8.6i, the new 9.8a
doesn't seem to rip anything
successfully) to rip the title which actually plays.
Hope that doesn't confuse everyone. I just wanted to blog about how to get it done. So far,
VLC version 8.6i
is the version I use to rip Disney movies. Everything else either can't rip it, or flat-out can't play it.
On the flip-side, it seems that Sony hasn't been putting any effort at all towards DRM on their normal DVDs. They're probably just putting all their efforts into copy protecting Blu-Rays now, which is just fine by me.