I just spent the last 5 hours trying to get Evolution to connect to our corporate Exchange server. I finally figured it out, and I can now interoperate 100% with calendars, contacts, meetings, and email from our Exchange server.
Due to the wide array of configuration options in Exchange, doing a step-by-step how-to would be, for the most part, fruitless. So here are some pointers.
MAKE SURE YOUR EXCHANGE ACCOUNT HAS WEB ACCESS ENABLED! IF IT ISN'T ENABLED, YOU WON'T BE ABLE TO AUTHENTICATE AT ALL - PERIOD.
After I figured this out, it took less than 10 minutes to get evolution connected to exchange.
At the office they're using Exchange 2000, so this article will reference things pertaining to that version.
I'm using Evolution 2.22.3.1
You will need to have the ebuild evolution-exchange emerged. It won't work without it.
After that, there are only a few things you need to get connected. Here's a screenshot of the login details I used.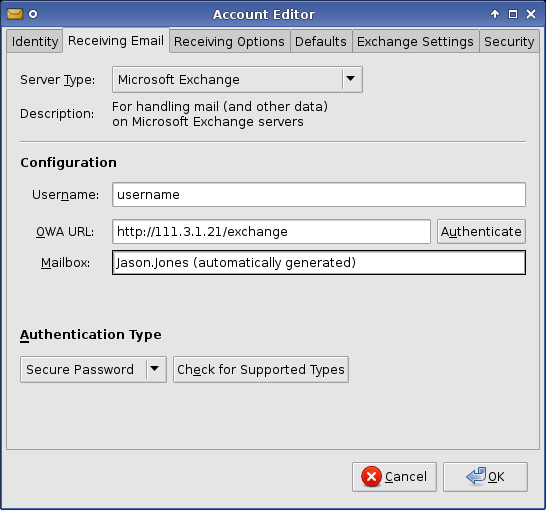 In the username space, I tried every conceivable concoction of domain / username combinations. Believe me, you only need your username there.
Not DOMAIN/username, not username@domain.fqdn
, just your username.
The OWA URL should be provided to you by your system administrator.
When you put in a valid OWA URL, the Authenticate button will become activated. Click it, and it should auto-generate the Mailbox for you. It did for me.
Make sure the authentication type is right.
The "authenticate" button seems to authenticate successfully whether the type is plain, or encrypted. But, if it's the wrong type, and you go to get your email, it will complain that your password might be wrong. Just use both types and you should get it right.
After that, you should be able to have access to just about everything Exchange provides.
Disclaimer:
This article is only a couple of tips, and is by no means a comprehensive tutorial. There's a good chance none of this will work for you.
Good luck!
UPDATE -
The day after I got this working, I updated my world and magically, without having updated anything related to evolution, my connection wouldn't authenticate again. After trying for 2 days to get it to work, I changed the IP address in the OWA URL to the domain name of the server. So, instead of http://111.3.1.21/exchange, it was http://uth-mail011/exchange. Then it started working again. Hopefully it'll keep working this time.