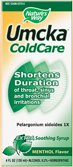 You would think I have an alterior motive for this post, due to the fact that I am currently employed by Nature's Way, but I honestly don't. I hope you'll see why soon.
I can't believe I haven't been told about, offered, showed, or by any other means received information about this product Nature's Way makes until recently.
Umcka Cold Care
is .... well... it's amazing.
I woke up, like... 3 mornings ago with an annoying sore-throat. So, my wife told me to take the Umcka I had brought home from work (I get it free for my family) and so I did. I got the menthol-type, so the taste was like that of pure peppermint - like... straight extract-type-taste. Not necessarily really good, but far from offensive.
I'm telling you, as soon as the stuff hit my throat and made its way down, I didn't feel my sore-throat any more, for the rest of the day. The next morning, it was there as well, but not as bad. I took the Umcka, and bam! It was gone again - and this time for good.
So.... If you can't seem to get rid of sore throats, and you haven't tried Nature's Way's Umcka, I'd highly recommend it.
Your mileage may vary, but I had to say something about it. I've never had a product work *
so fast
* with colds. Also, apparently, the earlier in the cold cycle you take it, the more effective it is.
Our kids love the grape flavored kind, too.